Recommended To Read
:
What data recovery tools to buy if you want to start a data recovery business?
Free video data recovery training on how to recover lost data from different hard drives?
Where to buy head and platter replacement tools at good prices?
Data recover case studies step by step guide
I want to attend professional data recovery training courses
DFL URE Plus-NVme Data Recovery Equipment(DFL-UREP) is one very helpful software and hardware combined data recovery tool. This equipment has one USB3.0 port and one NVme PCIe port. With DFL-UREP, users can work with USB portable drives, USB flash drives, NVme SSDs, SATA drives(requiring USB-SATA adapters to connect to the DFL-UREP).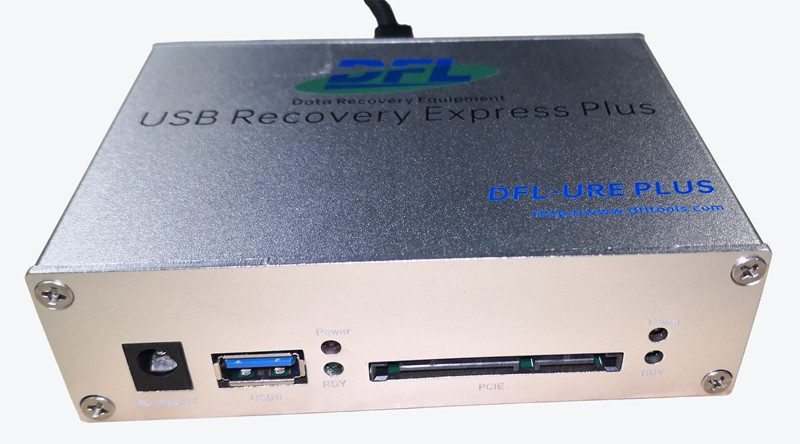 DFL-UREP is mainly used for disk imaging and file extraction and it offers some common firmware repair solutions as bonus for mechanical hard drives, for NVME SSDs, firmware repair is not available right now but will be available as one premium software addon, users can buy NVme SSD firmware repair module when available.
DFL-UREP data recovery equipment adopts secured offline working mode without internet request, very easy and convenient to use. Users can install DFL-UREP data recovery software within windows 7 and windows 10, both 32 and 64 bit OS, one click to install driver for DFL-UREP device.
Features:
1, Support NVme bad sector SSD image, NVme bad sector SSD file extraction;
2, For external hard drives, support unstable/bad sector hard drive image, file extraction, set up head map and run selective head image;
3, Detailed settings are available to configure for each case for the best success rate of disk image and file extraction;
4, Support WD SMR USB HDD direct disk image, file extraction without encryption, head map setup, WD SMR HDDs such as 2060-800041, 800067, 800069, 810003, 810012, 810033, 810035 hard drives;
5, Users can image to file, image to drive, image to VHD/VHDX;
6, Users can scan lost partitions, recover by file types, recover selected partitions, folders and files;
7, Users can run data only image and file image to save time and protect source drives;
8, …
Packing List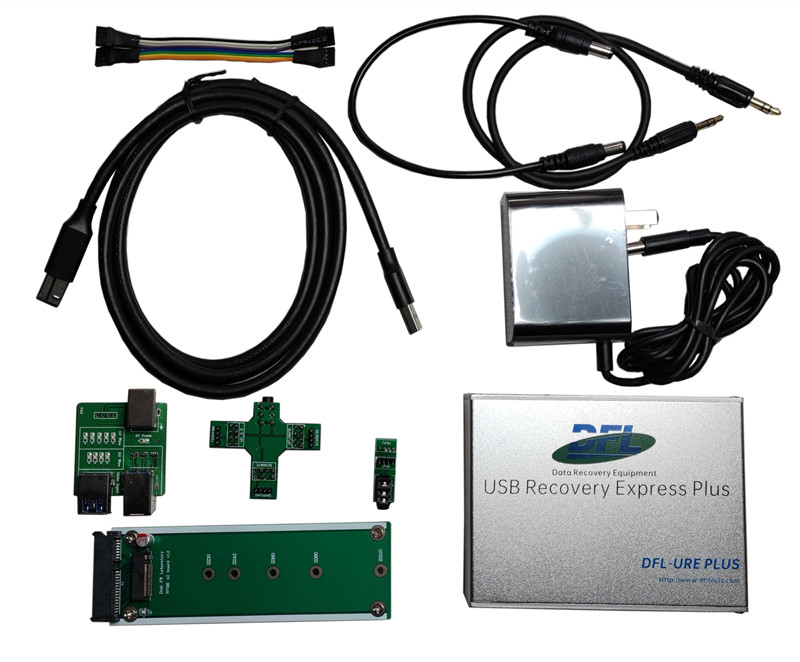 1, DFL-UREP hardware console;
2, NVME SSD Adapter;
3, External power adapter;
4, USB3.0 cable;
5, COM cable and connector;
6, 3.5″ USB HDD power connector;
7, USB cable tester
DFL-UREP has access to DDP data recovery software, WD HDD firmware repair software and Samsung HDD firmware repair software so far but due to the USB interface designed, not all firmware repair functions can be used.
Any question is welcome to sales@dolphindatalab.com or add Dolphin Skype ID: dolphin.data.lab