Recommended To Read
:
What data recovery tools to buy if you want to start a data recovery business?
Free video data recovery training on how to recover lost data from different hard drives?
Where to buy head and platter replacement tools at good prices?
Data recover case studies step by step guide
I want to attend professional data recovery training courses
A counterfeit refurbished drive next to a genuine Seagate drive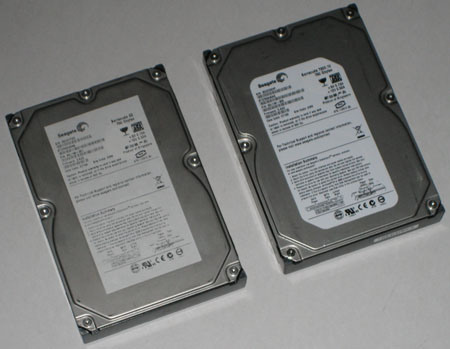 From afar, the most obvious difference is the shape of the labels. The drive on the left has a standard looking rectangle label, while the drive on the right has an interesting shape with curved corners; this is the genuine Seagate drive. With the counterfeit drive, the original label has been removed and replaced by a fake rectangle label. A rectangle label is cheap and easy to make, no curves are required to be cut.
A closer look at the counterfeit drive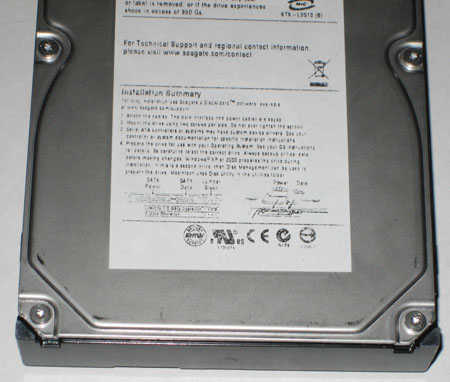 Upon closer inspection, it can be observed that the label is of very poor quality. The printing is all splotchy and the text unreadable. If you look on the edges of the label, you can also see traces of where the original label was adhered to, this proves the original label was removed. Judging by the scratches on the metal casing, this drive is not new; and most likely refurbished.
A look at the drives details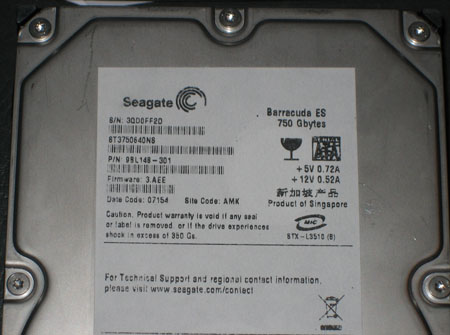 It can be observed the serial number is 3QD0FF2D. All Seagate drives have individual serial numbers that will validate on Seagate's Warranty Validation page. In this case the counterfeit drive returns 'Expiration Unknown', genuine drives will return an Expiration date. All Seagate 750GB drives have 5 years Seagate warranty, even the OEM drives from what I have experienced. Once again there are a lot of scratches on the surface.
The final confirmation
The thing about hard disk drives, is that you can write anything you want on the label, but the drives embedded information (included serial number) will not lie. Seagate offers SeaTools, drive diagnostic software for the Seagate range. The easiest way to get a copy of SeaTools is from the Ultimate Boot CD. SeaTools was run on the counterfeit drive, and a screen captures taken.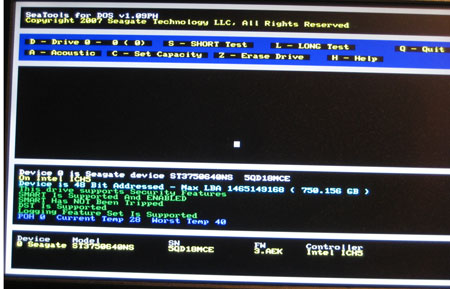 SeaTools confirms the model is indeed a ST3750640NS, however the serial number is actually 5QD18MCE, and the Firmware is actually 3.AEK. This is the hard proof that this drive has had its label removed.
Conclusion
The reasons for a removed label are most likely that the drive is refurbished, when Seagate refurbishes a drive they sometimes replace the label with a new label stating it is a refurbished drive. Note; this is still a genuine Seagate label, the label will still be that interesting shape with curved corners, it will however say refurbished on it. Buyers don't like refurbished drives, so it may have been the seller replaced the refurbished label so that he could then sell the drives as 'new'. Refurbished drives are also cheaper for sellers to buy.
In order to minimise being discovered, sellers will most likely sell the counterfeit drives in a cheap hard disk drive enclosures, as it was in my case. Always inspect any drives that arrive in enclosures to confirm you have received what was advertised. Do not simply make sure it works and looks nice.
Data recovery Salon welcomes your comments and share with us your ideas, suggestions and experience. Data recovery salon is dedicated in sharing the most useful data recovery information with our users and only if you are good at data recovery or related knowledge, please kindly drop us an email and we will publish your article here. We need to make data recovery Salon to be the most professional and free data recovery E-book online.