Recommended To Read
:
What data recovery tools to buy if you want to start a data recovery business?
Free video data recovery training on how to recover lost data from different hard drives?
Where to buy head and platter replacement tools at good prices?
Data recover case studies step by step guide
I want to attend professional data recovery training courses
Do you trust magic of repairing WD hard drives? If you trust, there is! A high success rate of WD HDD data recovery is called Magic here. WD hard drive repair and recovery is becoming more and more popular and the hdd repair tools needed are required with more hdd repair solutions. Between hard drives manufacturers and data recovery tools manufacturers is game and you can always see new hdd technologies are used in new hard drives and new data recovery solutions are worked out to perform hdd repair and data recovery from those drives, western digital hard drive is one of the fastest developed drives.
>>You can firstly learn the important firmware modules here
>>PCB to identify different type of western digital hard drives
>>How to Connect western hard drives with USB port only to professional hdd repair tools to perform firmware repair
While you are going to prepare for work with a WD HDD, you should identify the architecture of the drive, the type of Flash ROM installed in it (parallel or serial) and the settings of its
configuration jumpers.
WD HDD Architecture
Western Digital at present manufactures two lines of drives, which differ considerably.
The first line stems from Arch-0 WD drives belonging to the WDC AC280 (80 Mb) family, these drives use a classical WD architecture based on system controller designed by the manufacturer. Here belong WD70Cx-based HDD of Arch-V and Arch-VI families with maximum model capacity of 240 Gb reached in Arch-VI drives:
>Layout scheme of two WD70Cx-based controller boards
The second line is based on a completely different architecture using Marvell 88i554x or 88i654x system controller chip. Therefore, the manufacturer used completely different technological commands and the principle of work with the service area resulting in another technology necessary for restoration of those drives. They can be identified visually by their L-shaped PCBs:
>Layout scheme of two Marvell-based controller boards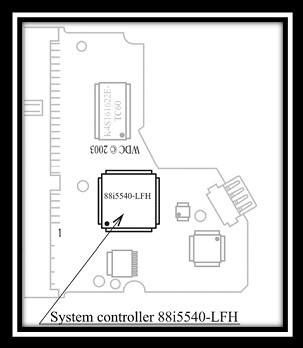 One more useful link for HDD repair:
Different Hard Drive Jumper Settings
Copyright protected content, please respect the efforts of the writer!
If you would like to learn more or any question there, please email to us by info@datarecoverytools.co.uk. Finally we want to say there're no magic hdd repair or data recovery tools you can get and use well for positive results. You hard work to learn about them and the drives is able to create magic results.