Recommended To Read
:
What data recovery tools to buy if you want to start a data recovery business?
Free video data recovery training on how to recover lost data from different hard drives?
Where to buy head and platter replacement tools at good prices?
Data recover case studies step by step guide
I want to attend professional data recovery training courses
There're multiple similar chips on these WD SMR HDDs with PCB number 2060-800077 and 810011. Users are usually confused to find out the correct ROM chip.
The following are the correct ROM chip location: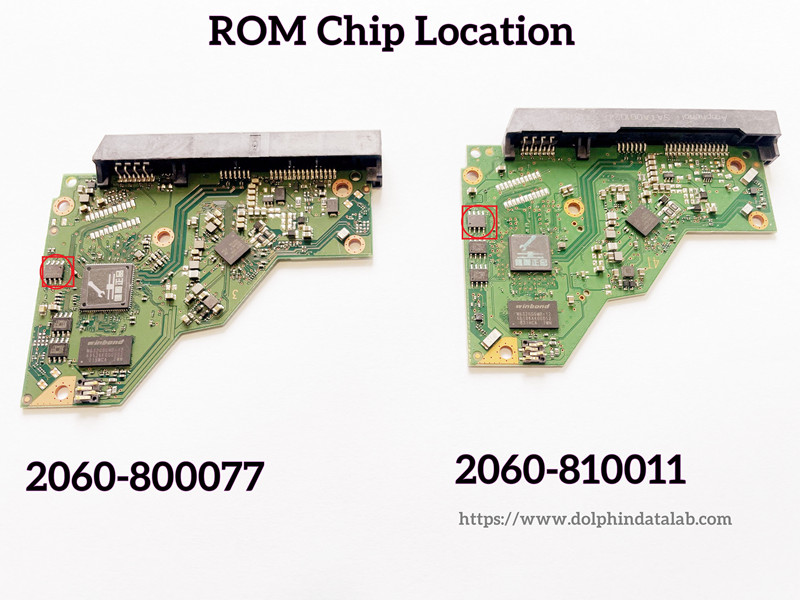 WD 2060-800077 HDD Firmware Unlock PCB, click here
WD 2060-810011 HDD Firmware Unlock PCB, click here
When users are trying to use above firmware unlock PCBs, users need to use HDD ROM Chip Pin Reader to read the original rom and write the original rom to the unlock PCB and then install the unlock PCB to original HDD so that the original HDD firmware area can be accessed. If users don't have HDD ROM chip pin reader, users need to solder the original rom chip off and solder it on to the unlock PCB rom chip location.
Please note: firmware unlock pcbs help only to access the firmware area and don't bypass the SED V2 data encryption. To fix the SED V2 data encryption issue, users need to use HDD USB-SATA Wiring PCB Pro. or Data Unlock SATA Connectors.
Any question is welcome to sales@dolphindatalab.com or add Dolphin Skype ID: dolphin.data.lab